Hi, I'm Jasmin Martin, a registered Homøopraktiker (naturopath) with Norges Landsforbund av Homøopraktikere (Norwegian Association of Alternative Therapists). Originally from New Zealand, I split my time between Tasmania and Norway.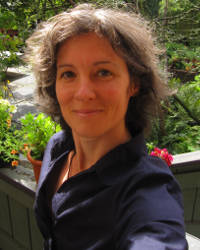 A holistic approach to health, fitness and healing is very important to me, one that incorporates the essential concepts of traditional western, eastern and indigenous medical systems.
As a therapist, I have experience offering traditional Thai massage and cupping therapy to people with chronic pain, injuries, stress, psychosomatic problems and post-operative issues. I've also been a practising pure vegetarian (vegan) for over 25 years and have knowledge of and experience with the fruitarian and raw food way of life.
Finding the best path to your long-lasting natural health is my number one priority as a health practitioner.
As far as family traditions go, my great grandmother was one of the first women in Russia to be accepted and trained as a medical doctor. She met her husband in Moscow, where they married, and later moved to Switzerland. Her son, my grandfather, was also a GP, with a practice in Geneva.
Passion
My passion is long distance hiking and ultra running as forms of travel, time out, mental conditioning, and physical endurance and strength. Visit my Happy Vegan Guide and Happy Vegan Runner web sites to follow some of my adventures.
Time out
Together with my partner we run Happy Bee Retreat, a natural retreat concept which focuses on the restorative beauty and healing power of nature. We're currently looking for a new location where we can continue our nature-based concept. We've just started an outdoor women only hiking group called Map of Tassie.
Blog
If you'd like to read some of my articles about natural medicine, traditional medicine practices and other adventures, then browse through my blog.
Viking code
I feel very close to the old Norse way of thinking. I particularly like this passage from the Håvamål, written by the Norse god Odin:
"Af egen Forstand
Bör Ingen prale,
Men vel i vare den tage.
Naar klog og taus
Man kommer til Hus
Sjelden hænde den Varsomme Feil,
Thi aldrig man faaer
Trofastere Ven
End megen Forstand.""
~ Havamaal, Den ældre Edda
Any questions, please feel welcome to contact me on +61 (0)448 381 306 or by email.
Go to Top ↑